20 Most Promising POS Solution Providers - 2019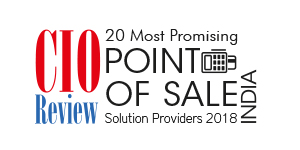 Businesses in the retail and hospitality industry are increasingly beginning to invest in ePOS systems whether it is a terminal, mobile or cloud-hosted platform. POS systems are revolutionizing the way businesses are conducted and ensuring high levels of customer satisfaction while gradually replacing traditional methods of selling goods and services. Improved customer service, better financial reporting, simplified stock management, streamlined business operations with a holistic overview of the business, optimized record keeping with customized reports, accelerated transactions and easier employee management where the solution can be utilised as a reward criteria and managerial tool are some of the benefits of implementing POS systems within the business. Improving and streamlining business operations, intuitive POS systems are carving out newer avenues within the firm. Gaining traction within the market, vendors providing POS systems solutions have begun mushrooming, promising to meet every client requirement. However, deploying a successful POS platform demands a blend of a skilled team of professionals, the right technology that imparts a host of benefits and the right business acumen, which is not possessed by every solution provider. Sifting through the influx of vendors and choosing the perfect technology partner can be a time consuming task with varied probabilities of success.
Coming to the aid is CIOReviewIndia with its "20 Most Promising POS Solution Providers" list. This listing features the POS solution providers who in our opinion meet and exceed every customer expectation. A panel consisting of some of the most distinguished CEOs, CIOs, industry analysts and CIOReviewIndia editorial board have come together and finalized on the list of organizations in this domain that can assist in assuring the business operations run more efficiently at a much lower cost and increased productivity.
We present to you CIOTechOutlook 20 Most Promising POS Solution Providers - 2019.
Top POS Solution Providers
| Company Name | Company Description |
| --- | --- |
| Logic ERP | Provider of vertical specific software for POS Operations. |
| | |
| --- | --- |
| BondPOS | Provider of POS software for Retail Industry. |
| ChefDesk | Provider of Hybrid Cloud POS System for Restaurant Operations. |
| Creative Information Technology | Provider of GST compliant POS for Retail and Restaurant. |
| Devourin | Provider of integrated solutions based on cloud and mobile technology for Restaurants. |
| Ginni Systems | Provider of POS solution for fashion and Lifestyle brands in Supermarkets. |
| GoFrugal Technologies | Provider of POS solution for retailers in e-commerce segment. |
| Inspired Technologies Pvt Ltd | Provider of One Stop POS Solutions with GST Compliance. |
| Lightspeed | Provider of POS solution for Retail, Restraunt,and OnSite. |
| Oracle Netsuite | Provider of mobile POS solution. |
| Peddle Plus | Provider of retail technology system based on offline POS system |
| Posiflex Technology | Provider of POS solution for retail, manufacturing, hospitality and healthcare. |
| QueueBuster | Provider of Customized Mobile POS Solutions |
| Quick Bill Solutions | Provider of business operation solutions for single stores as well as large chains |
| RanceLab | Provides one solution for POS, Financial Management, Chain store management, CRM and Barcoding and Inventory management |
| SAP SE | Provides POS solution for sports and entertainment, retail, merchandising, and catering businesses |
| SaralPOS | Provider of POS solution for Indian retail market. |
| Vend | Provider of Retail Management Software. |
| Zeta Software | Provider of cloud based POS software for restraunt billing and management solution. |
| Zopper Retail | Provider of POS and GST billing software for all retail shops. |