20 Most Promising POS solution providers - 2017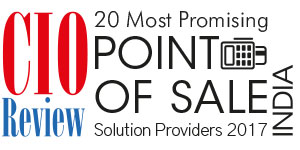 The revamped expectations have made the millennial crowd to settle for nothing but the best. The retail and e-commerce genre are finding themselves amidst these raised expectations where only the most apt technology solution can provide them that edge. From being used in physical retail outlets to online stores, this one-stop technology handles all the complexities. A point-of-sale (POS) system's capabilities go beyond being just a cash register to being a complete retail management system that automates, handles and integrates all aspects of business. With numerous actions going under one roof, one needs to understand what are the criteria that have to be considered before finalizing a POS. The foremost aspect is to understand whether the chosen POS will address the concerns of your business? Is it built to encompass the future needs and changes of your company? The basic problem arises when a business opts for a POS without considering the future needs and plans of the company. This step reduces the need of overhauling business operations again and again whenever a new feature is introduced in the company system. Another aspect is to consider the hardware needs of the POS software. What kind of hardware will your company need to run this POS? Larger stores will require more hardware including terminals, receipt printers etc as compared to small retailers who will require only a Cloud based tablet or a card reader to run the POS.
Amidst various estimating criteria to choose an apt POS, it is important to act according to the business needs instead of market trend. The business circle, years of experience and expert's views are some of the other pivotal aspects on which the decisions can be made. Considering these and observing the trends as well, CIOReview India have come up with a list of "20 Most Promising POS solution providers 2017". A distinguished panel of CEOs, CIOs, industry analysts and the CIOReview India editorial team has closely scrutinized these companies addressing the above features .We believe that the listing given by us will bring in a better clarity thereby enabling your businesses to take decisions that will sustain the test of time.
We present to you CIOTechOutlook 20 Most Promising POS solution providers - 2017.
| | |
| --- | --- |
| Anvesha Infotech | Delivers solutions for inventory, billing, accounts management, stock reports with web hosting, web development, website design and social media optimization services |
| BondPOS IT Services | Expertise revolves around Point of Sale software, warehouse management, inventory control and management |
| Cozy Infosystems | Provides a comprehensive solution for multi location retail store management with cloud back office and HQ management option |
| Cybernet India | Offers solutions for retail POS, restaurant management, education institute management and business solution suite for SMEs |
| Digital Bricks | Specializes in cloud-based technology, Point of Sales, retail, and food & beverage |
| Easovation Solutions | Caters POS hardware & solutions across variety of retail verticals such as electronic shop, bakery and restaurants |
| ePaisa | Builds SaaS based Point of Sale which provides tools to businesses of all sizes to help run and grow from Entrepreneur to Enterprise through its iOS and Android app |
| Ginesys | Portfolio includes procurement, production, inventory, sales & distribution, retail management, POS, data analytics, sms/email notification, finance and accounts, and ecommerce integration |
| GoFrugal | Provides one stop solution for retail billing, inventory tracking, accounting, customer loyalty management, multiple/chain retail store management and eCommerce integration |
| Infodart Technologies | Renders spectrum of service that includes IT Consulting, SAP, Oracle Retail, Mobility Solutions, Business Intelligence, IT Infrastructure and GIS |
| Lucid IT Solutions | Enables hotel management software, restaurant management software, property management system, and hotel & restaurant ERP |
| Millennium Soft-Tech | Deals with Retail Point of sale Machines and Systems which includes Barcode scanner, Barcode printer, Barcode reader |
| MobiSwipe Technologies | Delivers solutions in the area of card personalization, payment issuance and payment acquiring systems |
| Mswipe Technologies | Indulged in the manufacturing of Mobile POS System and providing their Installation Service and Maintenance Service |
| nGO Smart Retail | Focuses on retail technology solutions ranging from comprehensive restaurant ERP, e-commerce portals, mobile applications and sensor technologies |
| Peddle Plus | Specialities lies in inventory with bar-coding, POS & purchase, warehousing & CRM, stock verification & adjustment, financial accounting and multi chain management |
| Pine Labs | Enables payment solutions, card swipe machine, mobile wallet, and POS integration with billing system |
| RS Softgen Infotech | Specializes in Retail Software, Point of Sale software for monitoring inventory, barcoding and billing |
| Saral Technologies | Develops Android retail, warehouse, logistics, payment software for handheld PDA and POS devices |
| Zopper Retail | Avails POS software that includes CRM, Billing, inventory management, consumer and retail finance |