20 Most Promising POS Solution Providers - 2016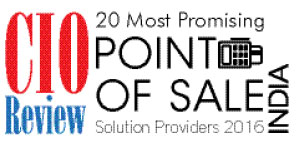 Technology is moving at such a rapid pace that the devices customers of an organization carry in their pockets are light years ahead of what the employees of that organization are using. And with years-old POS systems keeping the customer-facing staff tied to the till, the level of in-store customer service the staff can provide has suffered greatly. 2016 is witnessing an emerging need to equip employees with the (mobile) technology that will allow them to get out from behind the counter, and start talking to the customers.
In February 2016, a report by Counterpoint Research stated that India has become the second largest smartphone market in the world with 220 million smartphone users. Thus, it does make economic sense for businesses to have a mobile first/mobile ready platform. Payment system providers are now offering ready-to-integrate development kits for mobile app companies to deliver a native payment experience. Savvy consumers are now ditching even their credit/debit cards when it comes to making a purchase online, all thanks to wallet and banking apps which allow swift checkout experience. Speaking of which, restaurants, brick and mortar stores which, not very long ago, depended upon traditional POS systems for payment collection are also giving wallet users an option to use the same instead of swiping their bank cards. However, now contactless payment is the next step, where, in a tangible scenario, customers can make payments by flashing their card at the terminal.
Observing these trends, CIOReview present to you a list of '20 Most Promising POS Solution Providers.' Being closely scrutinized by a distinct panel of judges including CEOs, CIOs, CXO, analysts and CIOReview editorial board we believe that these companies are about to shape the future of digital payments by giving the best transaction experience to the end user while easing the payment collection process for any business.
We present to you CIOTechOutlook 20 Most Promising POS Solution Providers - 2016.
| | |
| --- | --- |
| Accusol Technologies | Facilitating POS software solution to automate the entire hospitability business from front desk management to complete back –office integration and control. |
| Benseron | Rendering Point of Sales Systems for desktop & mobile for online hospitality business websites and apps. |
| Bijlipay | Delivering solutions in mPOS/POS, Mobile Payments, eComm Payment Gateway, CRM and Risk management solutions to payment processing industry. |
| Cozy Infosystems Pvt. Ltd. | A provider of Retail Point of Sale Software, Mobile Solutions and Software Development Services. |
| EasyPOS | Furnishes solutions like POS, Mobile, CRM and customization Cloud based software solutions to Retailers. |
| ePaisa | Building multi-lingual mobile based point of sale ecosystem bill & utility payments, mobile recharge, cash register, inventory control and real time reporting. |
| Essae - Teraoka | Delivering POS accessories & solutions for Quick Service Restaurant, Hospitality Industry, Infrastruchure and fine dining. |
| Ginesys | Provides Retail, ERP & POS Software, Wholesale Software, Manufacturing Software and Analytics. |
| HOSTRA Systems | Builds solutions for hotels and restaurants which include Property Management Systems (PMS), Front Office software, booking engine for hotels and Point of Sale (POS) software and solutions on cloud. |
| Key Software Services | Has presence in vast field of web services, Business Process Outsourcing and Custom Application Development. |
| Lucid IT Solutions | Offering Hotel Management & Restaurant Management Software, Property Management System and Hotel & Restaurant ERP & POS. |
| Menson (India) | Involved in Point of Sale for Restaurants, Hotel Reservation & Billing, Store Management, Accounting Software and Online Food Ordering with Payment Gateway. |
| Mindscape Computing | Commited to develop Retail Technology Products, Retail Services and omni channel retail solutions. |
| Mswipe Technologies | An independent mobile POS merchant acquirer & network provider which specializes in POS, Mobile POS, mPOS, Card Payment, payment terminal and wireless payment devices. |
| Paynear Solutions | Proffers solutions for Card Payments, Wallet, EMI and Online Payments, Recharges, Bill Payments, Travex, Domestic Money Transfer and Mini ATM Point. |
| POSist Technologies | Presenting a range of Point of Sale (POS) Solutions for F&B businesses, Retail, Health & Wellness, Hotel Management System and Food Court Management Solution. |
| ProTeam Software | Designing POS solutions to serve Hospitality and Retail on web and mobile plaforms. |
| Semnox Solutions | Offers products and services for entertainment Industry which include Debit card system, Amusement and Theme park ticketing, FEC automation, Food court POS solutions and RFID products & solutions. |
| TVS Electronics | National third party Service provider providing Warranty, Post warranty & Supply chain services in the ICET domain and Online Auction services. |